CONVERSION WIRING SPECIALISTS
Take the guesswork out of your conversion wiring.
We offer plug and play conversion and stand alone wiring harnesses for 3.4 swaps, 2rz/3rz's and more. Simplify your swap's wiring with one of our plug and play conversion harnesses. Our harness adapts all your vehicles original wiring to your new engines computer/ECM and engine wiring harness, mating both systems together to function like factory. With so many changes in wiring and limited interchange between years and models we are unable to stock harnesses and each one is taylor made to your swaps particular needs. To save our customers money we give you the option to send us your donor plugs from both vehicles. Or pay the core charge and send your plugs in after the swap for a refund.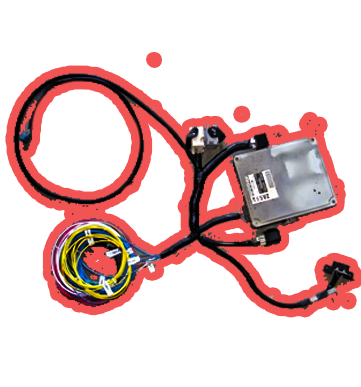 HARNESS OPTIONS
Wiring For Every Project.
If you do not see what your looking for below contact us for a quote for your particular swap. Take a look at the bottom of this page for our custom order/quote form and donor plug info. Before you source your engine contact us first to make sure how compatible it is with your swap. We do not work with JDM wiring. Orders completed in 4 to 8 weeks depending on current order volume. We do not make complete engine harnesses, we do not supply ECU's.
Below are our most popular conversion harnesses for easy buy it now shopping.
***When swapping a late model Toyota engine into your older Toyota with a 22R or 20R with a carburetor, a off road buggy, or any vehicle that was not originally fuel injected, our stand alone wiring kits make it a breeze, just follow the supplied wiring guide and hard wire in the connections for a simple, clean, and reliable engine control system. These are not compatible with fuel injected 22RE or 3VZ
What we need from you to start
Gather what we need to keep the process speedy
To start the process ship us your Donor plugs from both vehicles. "see donor plug info below" Make sure to include your contact info, phone#, email, and return shipping address, along with the details on your swap. Once we receive your donor plugs we put your order in line and will be completed in 4-8 weeks depending on current order volume. Once your conversion harness is completed we will contact you for Credit card or Pay Pal payment. We accept checks or money orders as well, send checks or money orders in with your donor plugs to speed up the process.
SHIP TO:

Toy Only Swaps
193 South Front St PO Box 619
Creswell, OR 97426 
Donor plugs from vehicle receiving engine conversion:
From the original vehicle receiving the swap we will need the engine harness, or a certain section of it if you'd rather not send in the complete harness. Often this is your 3.0 or 22re engine harness. We can in most cases supply these plugs for you at a cost of $75. You can pay the donor plug fee up front and send in your donor plugs after the swap for a full refund.
Donor plugs from vehicle your conversion engine is out of.
When you source your conversion you will need to cut off the donor plugs from the under dash wiring harness of the same vehicle. "DO NOT CUT THE DONOR ENGINE WIRING HARNESS" Make sure you cut the plugs with at least 8 inches of wiring or as long as possible. We can supply these donor plugs in most cases for $75, Plugs needed from under dash wiring harness:
OBD2 plug/port , from under dash harness.
Plug or plugs from under dash harness to Computer/ECU/ECM
Plug or plugs from under dash harness that plugs into engine harness "largest plug overall and normally has a clasp/latch"
!!! IMPORTANT NOTICE !!!
Please Read Before Shipping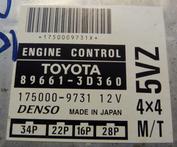 We must Identify your swaps computer and engine harness part numbers, the Vin number is the best way. If you don't have the Vin number then we need part numbers off on your engine computer "ECU/ECM" there should be a sticker on your ecu  part number should start out 89661-????? or 89666-????? See example photo.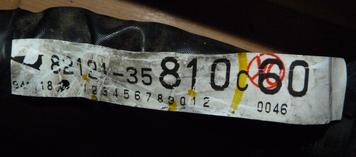 On your 3.4, 2rz & 3rz, or other donor engine wiring harness, confirm the part number, its normally just behind the firewall boot on engine harness 82121-????? See example photo: